FREE Bodybuilding Workouts
Old School Wisdom Meets New School Science
The Fastest Way To Build Muscle Mass!
Enter your first name and a valid email address
for free instant access to this amazing bodybuilding program.

Classic Bodybuilding of the Golden Era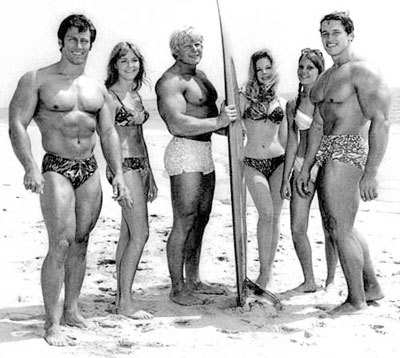 The Golden Era of Body Building

The Golden Age of Bodybuilding can be defined as a period from 1930 to 1970. World War II inspired young men to be aggressive and stronger to enable them to manage the rigorous aspects of the war. The world was getting more innovative with technology, better training methods, equipment, and nutrition that resulted in the increase in the body mass of bodybuilders. Perfect proportions and symmetry of the body was wanted and looked upon as a must have for bodybuilding.

The popularity of the sport took a tremendous turn, and became more competitive than the earlier years of when it first started. With the new bodybuilding craze, new competitions opened up such as the Amateur Athletic Union (AAU) which created the first Mr. America. This became a problem, however, because the AAU only accepted amateur bodybuilders. Professional bodybuilders became upset that they could not participate, so turned to Olympic weightlifting. Olympic weightlifting was a very difficult task to achieve, and they needed something more than just that. This lead to the creation of the International Federation of Body Builders (IFBB) by Joe Weider and his brother Ben. Who in turn held their own Mr. America competition which was open to professional bodybuilders, unlike the AAU who only held theirs for amateurs. Later, they created a competition known as Mr. Olympia, which is still the most honorable title for bodybuilders of today. It was in 1950 that the National Amateur Bodybuilders Association was started and the the first Mr. Universe competition was held in the United Kingdom.

Back in the 1930s, Muscle Beach, in Santa Monica, California, was the "home of bodybuilding". It was changed to Venice Beach, California in the 1950s. It was there that the now Governor of California, Arnold Schwartzenegger, got his start as a bodybuilder here in the United States. There were others such as Frank Zane, Frank Columbo, Dave Draper, Sergio Oliva, Lou Ferrigno, and Larry Scott that also became famous for their well-chiseled bodies. Muscle Beach Venice has been the home of many great bodybuilders since 1959. These young men had fun and a great comaradarie, and of course, competition between themselves. Even today, Muscle Beach Venice holds bodybuilding competitions and they have improved the public viewing areas as well. The Golden Age seemed like a great, nostalgic, and unforgetful time.

Back in the Golden Days of Bodybuilding, supplements were slim to none, and eating real food was the key to the well defined, ripped, bodies of these men, (and women). Their diet consisted of beef, chicken, eggs, and cottage cheese for the protein that was needed to put on the pounds. In addition, of course, they had to work very hard at weight lifting. Many of the bodybuilders have stated that those were the glory days and they would not trade them for the world.




Get the best vitamins and supplements for libido and strong erections at bestvitaminsforall.com

This information presented is intended to be used for educational purposes only. The statements made have not been evaluated by the Food and Drug Administration (U.S.). These products are not intended to diagnose, treat, cure or prevent any condition or disease. Please consult with your own physician or health care practitioner regarding any suggestions and recommendations made.